Don't let the little things complicate your beach vacation. Start off on the right track to avoid family conflicts. Your
North Myrtle Beach
vacation begins when you drive out of your driveway or board the plane to the coast. To make your trip more enjoyable, follow our tips on how to pack your car or prepare your luggage for a flight.
Road Trips are a great idea when traveling. Most of the time, you'll spend less money than flying and you get to see the countryside. It is important that everyone in the automobile is comfortable and has enough room to stretch, especially after a two-hour, or in some cases, five-hour nap. Don't clutter the seats with luggage, that's what the trunk is for! Keep only in-car entertainment on hand, such as an interesting book or iPod. Avoid packing perishable food, as spoilage may occur if packed improperly, and could provide an unpleasant odor the rest of the trip. North Myrtle Beach is a haven for grocery stores. Buy your food locally on vacation.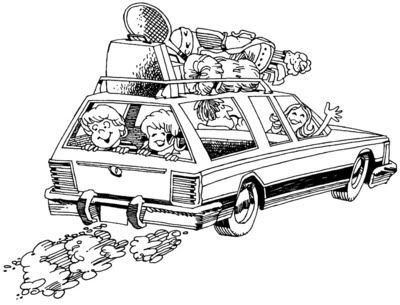 Think these folks packed just a little too much into that wagon?

Make use of all nooks and crannies when packing the car, but don't stuff the available trunk space. Pillows, blankets, and linen are great, and they don't take up much room. These things can easily fit into small spaces between luggage. Leave your windows free and clear and make sure you can see out into traffic. You wouldn't want to wreck on your way to North Myrtle Beach by not being able to properly see out the windows.

Use common sense when packing your car. What do you really need to bring on vacation? If you find the back end of your sedan weighed-down and nearly touching the pavement, then you've packed too much. Grills, kitchen appliances, coolers, bikes, and beach equipment are either provided with your North Myrtle Beach Vacation Rental, or are offered for rent through area vendors. Remember to only pack the necessary clothes, bathroom supplies, and limited entertainment options. Guests always go back home with more than what they brought, due in part to the great shopping at the beach.

You have to be even more efficient if you're flying to North Myrtle Beach. Checking bags can get pretty expensive these days. It's not unusual to spend over $40 per bag to check. Try your best to pack everything in a suite case that will fit in an overhead compartment. Certain liquids and sharp objects can't be taken onboard an airplane. Remember to carry on a good book or an iPod as flights can get boring.

The more efficient you pack, the more money you will save. Lighter cars will save you more gas money, and carry-on bags are mostly free on flights. Don't subject yourself to any conflicts on your trip to North Myrtle Beach.

View Available North Myrtle Beach Vacation Rentals HERE

Written By: Jake Foutz - Director of Marketing, Ocean Drive Beach Rentals