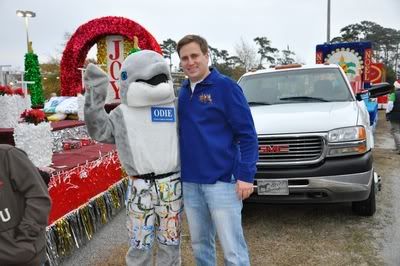 H.G. Worley with our mascot, Odie the Dolphin, during the 2010 parade

We hope to see you at this year's North Myrtle Beach Christmas Parade, set for this Saturday, December 3rd. Several floats will be motoring down Main Street to Ocean Boulevard in familiar holiday fashion, with marching bands, beauty queens, and local personalities. The annual celebration kicks off at 5:30 pm and lasts until at least 8:00 pm.

Ocean Drive Beach Rentals will be passing out assorted candy from their brightly decorated holiday float. As an even sweeter gift, we will also be passing out our popular signature beach frisbees. Make sure you get to the parade route early, so you can stake out that perfect spot to watch the North Myrtle Beach Christmas Parade with family and friends.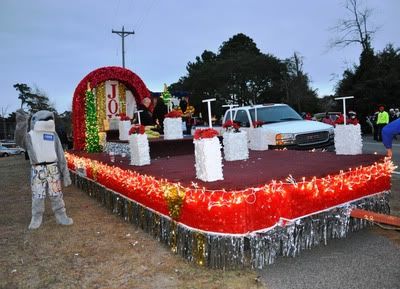 Our 2010 North Myrtle Beach Christmas Parade Float

We love participating in the Christmas parade. It gives us a chance to celebrate the holidays with our family, friends, and meet new people. Some spectators even put on as much of a show as the parade itself. Countless elves and Santa impersonators always stick out in the crowd. Stay tuned to Ocean Drive Beach Rentals' Facebook page and vacation blog for event pictures in the coming week.

Dress warm! Saturday's North Myrtle Beach forecast is calling for sunny skies, with high temperatures topping out at around 65 degrees. Expect the temperature to drop to around 45 – 50 degrees by the time the parade kicks off. There is no rain forecasted until late next week.

For North Myrtle Beach vacation rentals, please follow this LINK. Thanks!

Written By: Jake Foutz - Director of Marketing, Ocean Drive Beach Rentals