The fall festivals are in full swing in
North Myrtle Beach
and surrounding coastal communities. We're enjoying beautiful 70-degree weather, perfect for various outdoor activities. Beach crowds are now down to a bare minimum. Our Grand Strand boasts a great weekend escape for all family sizes.
Ocean Drive Beach Rentals has the best fall weekend rates in North Myrtle Beach! Come down for a nightly stay this fall and extend your stay for free. When you book a 2-night stay with Ocean Drive Beach Rentals, you'll get an additional night added at no charge. The deal gets sweeter if you book a 4- night stay – get an additional 2 nights free! Click through on this link to learn about the latest promotion at Ocean Drive Beach Rentals.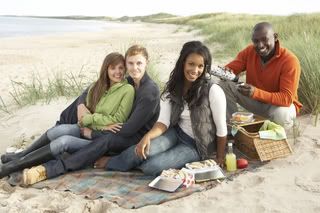 How about a nice fall picnic on the beach?


It's not uncommon for the mild beachy weather of North Myrtle Beach to last into the winter months. The Grand Strand of the Carolinas has proven to be a hot destination in the off-season. Popular restaurants still cater to fall visitors, and most attractions are open year round. There are several top shopping malls and outlets that dot Myrtle Beach. Golf tends to heat up as the weather cools down.

The Extend Your Vacation promotion is perfect for couples or families who would like to escape to the beach for a break from work or school. We all hate leaving North Myrtle Beach after visiting for such a short time. Now you can extend your stay for free! Call Ocean Drive Beach Rentals today and schedule a weekend away from home.

Phone Number for Ocean Drive Beach Rentals: 877-287-2977

Click HERE for visit Ocean Drive Beach Rentals on the web!

Written By: Jake Foutz - Director of Marketing, Ocean Drive Beach Rentals