Make plans to attend the
North Myrtle Beach Endless Summer Festival
, held on October 29th. The Saturday – only festival lasts most of the day (10:00 AM – 4:00 PM) and is packed with fun for the whole family. It will be located on Main Street at Ocean Boulevard, with most of the free live entertainment taking place on the stage at the famous
Horseshoe
of Ocean Drive.
Visitors have swarmed to the Endless Summer Festival in the past, and we're expecting nothing less this year. Typically, over 10,000 people attend this one-day event to celebrate summer's end. North Myrtle Beach hosts several arts and crafts vendors, food vendors, a classic car show, carnival rides, street performers, and live bands at this annual event. There is no admission charge. Best of all, the gorgeous beach is just steps away from the festivities!

Ocean Drive Beach Rentals confirms that they will have a display once again at this year's Endless Summer Festival. We'll be giving away free gifts and will have a drawing for a free vacation at our Ocean Drive Beach and Golf Resort, of which is located on the oceanfront in North Myrtle Beach. Enjoy freshly-popped popcorn and take a picture with Odie, our dolphin mascot. See why Ocean Drive Beach Rentals is the place to host your next family vacation on the Grand Strand.


Ocean Drive Beach Rentals' 2010 Display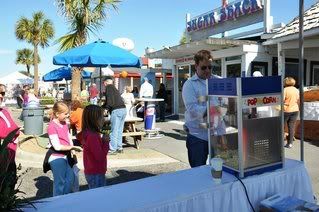 H.G. Worley, of Ocean Drive Beach Rentals, popping corn in 2010

Let Ocean Drive Beach Rentals find you that perfect vacation rental property to stay in while you're in North Myrtle Beach during the weekend of the Endless Summer Festival. Our properties are spacious, well-kept, and offer full kitchens and living areas. Take advantage of our Extend Your Vacation promotion and add on a free night or two to your stay.

Clich HERE for available vacation rentals in North Myrtle Beach during the Endless Summer Festival.

What's happening in North Myrtle Beach this fall? Click HERE for information on all other popular festivals and events.

Written By: Jake Foutz - Director of Marketing, Ocean Drive Beach Rentals