Ocean Drive Beach Rentals
, of North Myrtle Beach, picked the winner of their 2nd Annual Endless Summer Photo Contest on September 17, 2011. Fans of the popular vacation rental company's Facebook page submitted vacation photos for a chance to win one of three great prize packages. The grand prize winner was to receive a voucher for a free weekend stay at the Ocean Drive Beach & Golf Club, with a $100 check for spending money.
Aondria Berry, from Knoxville, Tennessee, won the contest with her beautiful picture of a North Myrtle Beach sunrise. As part of her grand prize package, Aondria will get to spend 2 lovely nights in the oceanfront Ocean Drive Beach & Golf Resort; in the Ocean Drive section of the north Strand. A $100 check is a great compliment to the package, of which can help with gas money or a night out on the town. Pay close attention to future projects by Ocean Drive Beach Rentals, as her winning picture may be used in content.

The second place prize package goes to Savannah Robinson, from Sevierville, Tennessee. Savannah earned the prize of an official North Myrtle Beach t-shirt and a surprise gift that goes along with the shirt. Her beach portrait describes perfectly of what a Grand Strand vacation is like; relaxed and care-free. Laura Hartman, from New Haven, Indiana, won third place with her clever footprints in the sand photo. For her prize, she won a gift bag from Ocean Drive Beach Rentals.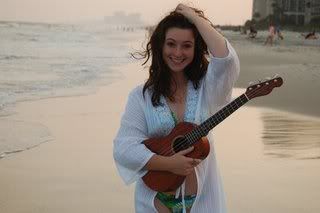 Savannah Robinson, second place


Ocean Drive Beach Rentals hosts a vacation photo contest every summer. We love to see what our guests are up to on vacation in North Myrtle Beach, and the memories they choose to capture on film. There are tons of great photos that are submitted; it's so tough to pick three winners out of the bunch. Click through on this link to view more photos that were posted by our awesome Facebook fans.

Written By: Jake Foutz - Director of Marketing, Ocean Drive Beach Rentals