As the summertime has been growing, so has
Ocean Drive Beach Rentals
. While David Robinson joined us as our new controller in June, we added Brandon Moss as our second Vacation Rental Specialist, and Shane Vereen as a full time maintenance man. We're proud that both of these skilled individuals have decided to join our talented staff, and hope that you'll take the time to introduce yourself when you visit North Myrtle Beach next.
Shane Vereen is skilled in construction, HVAC systems, and handy man services. He is extremely efficient and knows how to get the job done right. If anything goes wrong with your rental property, he's on the scene immediately. Our guests find that he has a great personality and that he's easy to get along with. You can be rest assured that he'll help make your North Myrtle Beach vacation a memorable one.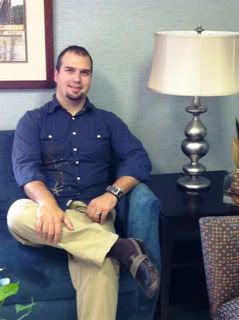 Our newest addition, Brandon Moss.


Brandon Moss -

I moved to Myrtle Beach in the summer of 2010 from Colorado. My wife and I moved out to the coast for the sole purpose of trading the Rocky Mountains for the Atlantic Ocean. We love the warm weather of South Carolina, and living by the beach is great! I have a background in music, earning a Bachelor's degree in Music from Colorado State University. I still play various instruments, but mostly stick with drums. Working at Ocean Drive Beach Rentals is great, and I love helping people have fun while they're on vacation. The Grand Strand is much more than a beautiful beach, and it's great to share fun things to do around North Myrtle Beach with people who are here to get away.