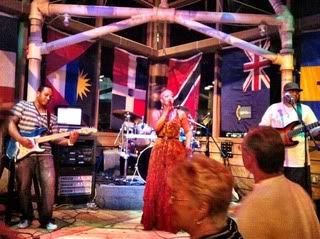 Nadirah Shakoor, of Jimmy Buffett's Coral Reefer Band, performing at Margaritaville of Myrtle Beach. May 2011

Beach weather is very much here and summer is right around the corner! Many families are in town, or are planning to visit in the next few months. Our peak season brings some of the best live acts and bands you'll find in North Myrtle Beach all year. Spring and summer street festivals, such as Mayfest and the Little River Blue Crab Festival, bring in thousands of spectators.

The Legends of Surf Music, featuring Al Jardine and David Marks of the Beach Boys, put on a great concert before a packed house last weekend at North Myrtle Beach's Mayfest celebration. Beach Music greats, such as The Fantastic Shakers and The Catalinas, are set to perform in front of a record crowd at this year's Blue Crab Festival – happening right now. Great weather, delicious local food, and arts & crafts vendors compliment these popular festivals. You'll want to stay tuned-in to our OD News page for more information about upcoming outdoor festivals along the Grand Strand.


Al Jardine, of the Beach Boys, rockin' at Mayfest 2011


The House of Blues in North Myrtle Beach is your chance to get up close and personal to some big acts. Its small venue size is perfect for the most intimate experience between musician and fan, and provides for great views almost anywhere in the theater. Popular bands and artists such as, Willie Nelson, Peter Frampton, .38 Special, and Good Charlotte are all expected to perform at the House of Blues within the next few months. Make sure to check out the band schedule online HERE before planning your next North Myrtle Beach family vacation.

Whether it's popular mainstream musicians or regional and local bands, North Myrtle Beach has some of the best live acts in town when you're in town. Stop in the office at Ocean Drive Beach Rentals or give us a call for our recommendations when planning our next family vacation. Most of the local venues keep us up-to-date with what's going on around town.

Written By: Jake Foutz - Director of Marketing, Ocean Drive Beach Rentals