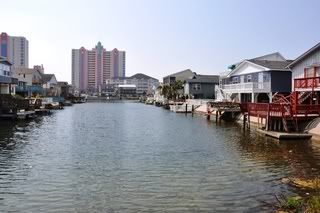 35th Avenue Canal in Cherry Grove

The Cherry Grove section of North Myrtle Beach features beautiful canals. They're excellent for small watercraft, such as fishing boats and jet skis. A few Ocean Drive Beach Rentals' vacation homes are located canal-front with docks or piers that allow for prime waterfront relaxation. At low-tide however, the canals appear nearly waterless.

A judgment passed at the end of March that gives the ownership of the canals to the state – ending a dispute amongst the state of South Carolina and a local real estate company as to who legally owned the canals. It is now possible for the state for dredge the canals and remove the years of accumulated sediment. If left untouched, canals could eventually become impassable. This is a major project that could cost up to $10 million.

What does this mean for you? Canals and marsh waterways will become more boater-friendly. Our canal properties will also benefit from the improved waterfront views. There hasn't been a date set for when dredging will begin.

Written By: Jake Foutz - Director of Marketing, Ocean Drive Beach Rentals