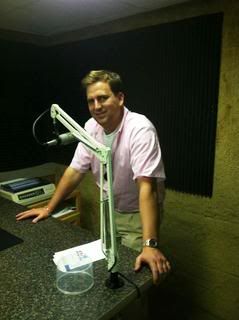 H.G. Worley of Ocean Drive Beach Rentals being DJ for the day.

This past week, the owners of Ocean Drive Beach Rentals and the Ocean Drive Beach & Golf Resort, the Worley family of North Myrtle Beach, officially brought back the Beach Music legacy of Ocean Drive and bought the famed radio station, 94.9 The Surf. The station briefly went off-air in January of this year and the Worleys acted fast to save what could have been the end of Beach Music along the Grand Strand. Locals and visitors alike have been buzzing since the sale.

The Surf can be heard within a 2 hour radius of North Myrtle Beach, South Carolina. That's approximately a 120 mile radius from the Main Street headquarters of the station. Anyone with internet access will be able to listen to live streaming Beach Music tunes when the website comes live in the near future. Ocean Drive Beach Rentals will post updates on this blog as they become available. Ted Bell is the chief on-air personality of 94.9 and will bring you many great hours of quality Beach Music.


Ted Bell and H.G. Worley on Opening Day

When you're on the beach this summer, tune in to 94.9 The Surf. It will serve as a nice compliment to the beautiful scenery on the beach strand. Don't forget to call in to the station and request your favorite bands.

Written By: Jake Foutz - Director of Marketing, Ocean Drive Beach Rentals