North Myrtle Beach keeps you busy with clean beaches, thrilling attractions, challenging golf, and some of the best seafood restaurants along the East Coast. Shopping is also very popular along the Grand Strand. Several malls, outdoor shopping complexes, and specialty shops attract millions of customers every season.
The beach's newest shopping mall, Coastal Grand Mall, is located by the Myrtle Beach airport and is just a short drive south of Main Street in North Myrtle Beach. The modern, well-decorated atmosphere and name-brand retailers is sure to impress. Myrtle Beach Mall offers a similar assortment of shops and includes an on-site Bass Pro Shops store. It's located south of Main Street, after Barefoot Landing as your driving south on Highway 17 from North Myrtle Beach. Both of these malls offer movie theaters and are a great place to visit on rainy, cloudy days.

Outdoor shopping complexes, such as the Tanger Outlets and Myrtle Beach's Market Common, are popular in the spring, summer, and fall months. Over 100 name-brand stores, including Old Navy, Izod, Polo, and Reebok, can be found at the Tanger Outlets. The Market Common features popular brands and specialty shops in a unique urban setting just south of Coastal Grand Mall in Myrtle Beach. It also hosts one of the best movie theaters along the Grand Strand. Visit one of these outdoor shopping complexes after a day on the beach. You'll find excellent dining options within walking distance.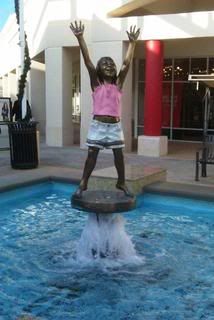 Visit this cool sculpture at the Tanger Outlets in North Myrtle Beach!

If you find that you forgot your bathing suit or beach towel when you left for vacation, don't worry! There are lots of beachwear stores that crowd North Myrtle Beach. Here is a good spot to find souvenirs of your vacation or a t-shirt for a friend back home. Beachwear stores are also a great place to find beach-related toys, frisbees, and rafts for use while you're at the beach. They aren't hard to find and are most likely walking distance from your beach house or condo.

Remember to save up a little money before your vacation if you plan to do some shopping. With exception of the beachwear stores, retail prices tend to be very competitive in town. Due to the spring and summer beach crowds, we advise you to do some research before hand, to see which shopping destination fits your desires better. Use the links throughout this blog post to visit a particular shopping center.

Written By: Jake Foutz - Marketing Director, Ocean Drive Beach Rentals