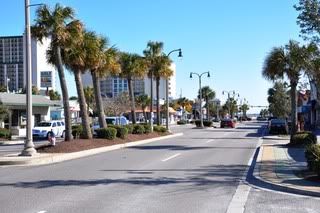 Looking down Main Street. Gorgeous day in February!

North Myrtle Beach weather has definitely taken a turn towards the better this past week. With sunny skies and highs in the mid-70's today, you'd think that we skipped March and progressed right into April. No, we're not that fortunate, but after a winter full of unusually frigid days and threats of record snowfall, it looks like this mild weather is here for good, until next November.

Looking at the 10-day forecast from The Weather Channel, North Myrtle Beach will have mild temperatures in the 50's, 60's, and 70's the rest of this month with very few rain days. The next couple of months bring in average temperatures in the 60's and 70's. We're loving this weather and glad it's finally back on the Grand Strand. Although the ocean temperature is still a little too cold for most, the sun will surely pamper your skin.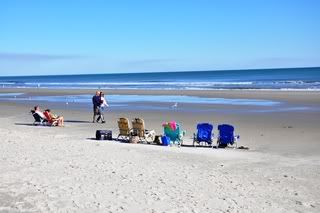 February 19, 2011 - Perfect weather for a day on the strand!

Call now to schedule your spring vacation! With our mild temperatures in full "swing," it is the perfect time for a game of golf. We've got an in-house golf professional to save you dollars on your next round. Outdoor shopping centers, such as the popular Tanger Factory Outlets are a great place to hang out at after an afternoon on the beach. Most of our rental properties feature a screened porch or deck – wonderful to lazy around and fall asleep to the breezes off the nearby Atlantic Ocean.

Ocean Drive Beach Rentals has the right vacation rental for your spring getaway. With school in session and job limitations, most people can't escape for a week until summer. That's alright! Our vacation policies are flexible, in that we allow nightly stays equal to, or greater than, 2 nights until the end of May. Call us at 877-287-2977 and let us help you plan a special weekend at the beach for your family.

"Hey, I'll settle for a couple months of unusually frigid weather if it means that February will be this nice!" - J. Foutz


Written By: Jake Foutz - Director of Marketing, Ocean Drive Beach Rentals