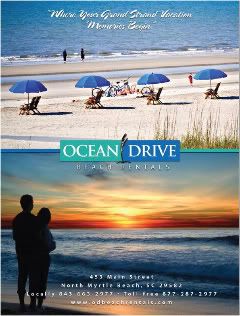 Cover, 2011 Ocean Drive Beach Rentals Vacation Planner

A lot of great things are happening with Ocean Drive Beach Rentals now, and in the coming months. We pride ourselves with the fact that we are an ever-developing property management and vacation rentals company. This is all possible with great customers, and an innovative, creative staff.

Our 2011 Vacation Planner is being printed right now. It will feature a sampling of our North Myrtle Beach vacation rentals, helpful information on the Grand Strand, and a detailed destination map. This year's planner is designed in a unique manner, in that no other company on the beach has the same format as ours. We feel that our website is the most important tool in planning your family vacation, and so this planner will serve as a compliment to our incredible online presence. Please give us a call at 877-287-2977 to reserve your FREE COPY.

Ocean Drive Beach Rentals now has 74 properties listed on the website! By Christmas, this number could easily swell to 80 properties. That means more vacation rentals to choose from. Each and every one of them is unique and offers different amenities. We offer rentals for every budget and preference; along every location in North Myrtle Beach. Our pet friendly (dog friendly) offerings are growing rapidly as well. You can check out the newest properties to our inventory here.

The Endless Fun Club was designed a year ago to give our guests more value for their vacation dollars. In 2011, we're going to grow this program bigger, and include more Grand Strand businesses. After March, Guests vacationing with Ocean Drive Beach Rentals will be able to take advantage of big discounts at popular shops, attractions, and restaurants. Check our website often to see what businesses are participating.

Social media is extremely important to us. Our goal is to post a new blog article every Saturday, possibly more than once per week. We also have a strong presence on Facebook, with over 1,000 fans to date. This is a great way to get announcements out to our customers, let you know about North Myrtle Beach news, and have a little fun with contests. Right now, we have a Facebook contest for our fans to win a $500 pre-paid American Express credit card, and a $100 Gift Certificate to go to the runner-up, if we reach 1,300 fans by December 9th. Stop by our page before then and become a fan, you may be one of the two winners announced on December 10th.

Favorite our website in your internet browser so you can keep up with our changes. Every day we're doing something different. We appreciate everyone for helping us grow successfully in the past year, and look to the future in anticipation.

Written By: Jake Foutz - Director of Marketing, Ocean Drive Beach Rentals