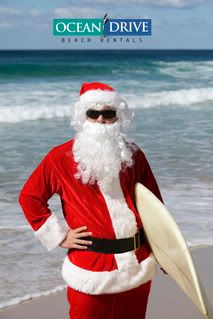 We know what Santa is thinking this year...

Need an idea for gift-giving this holiday season? Think out of the box for 2010 and give something that will really impress your family or loved-one. Gift a vacation this holiday season and gift memories that last a lifetime.

If you have a family, buy the gift of a family vacation. North Myrtle Beach is an excellent destination that will help create memories that last forever. The mild year-round weather, clean beach strand, warm ocean, and top Grand Strand attractions and restaurants are more appealing than the traditional gifts. This idea is also great for couples (birthdays, honeymoons, and engagements).

Ocean Drive Beach Rentals makes it really simple. You'll receive a free linen package and set-up when you book a week's stay and pay in full within 10 days of making your reservation. Book a two week stay in one of our vacation rentals, pay your deposit within 10 days, and get 10% off the second week stay! SAVE money on your 2011 vacation and take advantage of our "Gift a Vacation" promotion. This holiday deal ends on January 1, 2011. You can view details by clicking this link.

We have the best quality selection of vacation rentals in North Myrtle Beach that appeal to all budgets. Choose from locations along Crescent Beach, Windy Hill, Ocean Drive, and Cherry Grove. Most reservations are on a weekly basis, but we do support nightly and monthly reservations. Whatever the occasion, we can help you find that perfect present.

Written By: Jake Foutz - Director of Marketing, Ocean Drive Beach Rentals