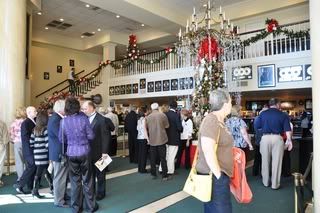 LIVE at the Alabama Theatre

The 16th annual Carolina Beach Music Awards Show, or CBMAs, were held at the Alabama Theatre this past Sunday. It was such a treat, especially with the venue being decorated for the holiday season. This year's awards show was held in honor of General Norman Johnson, band leader of the popular beach music supergoup, The Chairmen of the Board. It was great to see live performances from top artists such as, Rhonda McDaniel, Jim Quick & Coastline, Sea Cruz, Craig Woolard Band, and the National Shag Dance Team.

Every year, the big beach music party comes to North Myrtle Beach. The Carolina Beach Music Awards caps off a week full of live music at top clubs up and down Main Street and Ocean Drive. Fans take advantage of the night life Wednesday through Friday, with award ceremonies at the Spanish Galleon and Alabama Theatre over the weekend evenings. It's just another great reason to come visit during the off-season.

For those people who missed the show this year, enjoy the pictures posted here, more of which are posted on our Ocean Drive Beach Rentals Facebook page. You can view a complete listing of the 2010 CBMA Winners here. Remember to make plans early for next year's event, held during the first part of November 2011. Beach music fans and shaggers call Ocean Drive Beach Rentals home.

Written By: Jake Foutz - Director of Marketing, Ocean Drive Beach Rentals