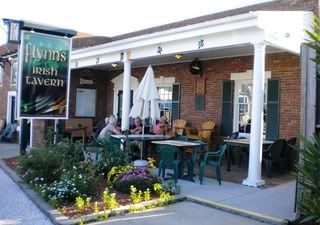 There is a hidden gem located at 421 Main Street in the Ocean Drive section of North Myrtle Beach. Just a short walk from the wide sandy beaches and excellent accommodations of Ocean Drive, Flynn's Irish Tavern is a must visit for great food and drinks. Flynn's is the locals' favorite bar to enjoy a perfectly poured pint after a day on the beach or a round of golf. Visitors to North Myrtle Beach are always welcomed at Flynn's. You'll feel right at home when you walk through the front door.

Marty and Jane Flynn are the proud owners of Flynn's. The authentic old country atmosphere of the tavern comes from Marty's place of birth, County Roscommon, Ireland. Adorning the walls are memorabilia depicting the old country and sport's legends. The tavern is housed in the old North Myrtle Beach jail. The jail cells are still there and tours are given upon request. Flynn's hosts a seasonal Beer Garden, which is always a great time, and allows guests to enjoy the wonderful weather for which the Grand Strand is known for. Of course, the front porch is always open for your relaxation.

The menu features authentic Irish fare, steaks, fresh seafood and sandwiches. There are nightly specials ranging from traditional corned beef and cabbage to the best prime rib on the beach. Over 40 different kinds of whiskey adorn the back wall behind the bar. Flynn's Tavern opens its doors at 4:00 in the afternoon Mondays - Saturdays. Happy hour runs from 4:00 - 7:00 daily, and live music is played in the bar on Friday and Saturday nights starting at 7:00. On your next trip to North Myrtle Beach, make sure you visit Flynn's. Stop in, say hello, and enjoy the relaxed atmosphere and warm hospitality that only Flynn's Irish Tavern can provide.

Written By: David Haynes, Ocean Drive Beach Rentals